Retailers bear the cost of a growing theft problem
By Andy Kriege, YSN
Retail theft is skyrocketing.
It is collectively costing all of us untold millions of dollars in lost goods, not to mention countless dollars in security measures and lost man-hours chasing the problem. It isn't just petty shoplifting that is on the rise, either; it is organized and coordinated retail theft operations that are cutting into the bottom line of all storefronts, from small mom-and-pops to giant big-box operations.
Think crime doesn't pay? Think again. Now more than ever, police and prosecutors are turning a blind eye to the problem and are less likely to apprehend or charge offenders than in the past. Additionally, consequences are now dwindling if you are one of the few that does get caught. According to the National Association for Shoplifting Prevention, at least 40 states have raised the threshold for theft, allowing thieves to steal more and face lesser charges. Indeed, theft of goods worth less than $950 is considered a misdemeanor in many states.
Shoplifting, organized retail theft (ORT), employee pilfering, or supplier fraud all comprise what the industry has termed "shrinkage." The combined cost of all shrinkage is on the rise and nearing the equivalent of 2 percent of total U.S. retail sales. While all forms of retail crime have been increasing for years, the trend accelerated during the pandemic. Experts say the problem has been exacerbated by the enormous shift to online shopping, which has made it easier than ever to resell stolen goods on platforms such as Ebay, Amazon and Facebook Marketplace.
Cause, meet effect: The erosion of consequences for offenders coupled with the ease of reselling stolen goods has created a stealing tsunami, and merchants are caught in the middle of the storm.
Retailers are pressuring the federal government to make it harder to sell merchandise in digital marketplaces, arguing that it would cut way down on theft in the first place. Twenty major chains including Target and Home Depot signed and sent a letter to Congress last year asking them to pass legislation to deal with the issue. They seek to force sellers of online goods to provide more information to identify who they are, making it more difficult for criminals to remain anonymous.
The U.S. Chamber of Commerce also weighed in and has asked Congress to pass the INFORM Consumers Act (Integrity, Notification and Fairness in Online Retail Marketplaces). This bipartisan legislation aims to crack down on the sale of stolen goods online by enhancing penalties for "organized retail theft" and lowering the threshold for felony charges.
"These crimes are not victimless," the Chamber of Commerce wrote. "In addition to the growing number of thefts that turn violent, innocent consumers, employees, local communities, business owners, and shareholders bear the costs of rising retail theft."
Some states are beginning to do what the federal government has yet to accomplish. In early April, Ohio became the third state, after Arkansas and Colorado, to regulate anonymous sales on sites such as Amazon, Ebay and Facebook Marketplace. Illinois has similar legislation pending. These new laws require "high-volume" sellers (those with sales of $5,000 or more within two years) to share their identification and banking information with the online marketplaces to curtail professional thieves.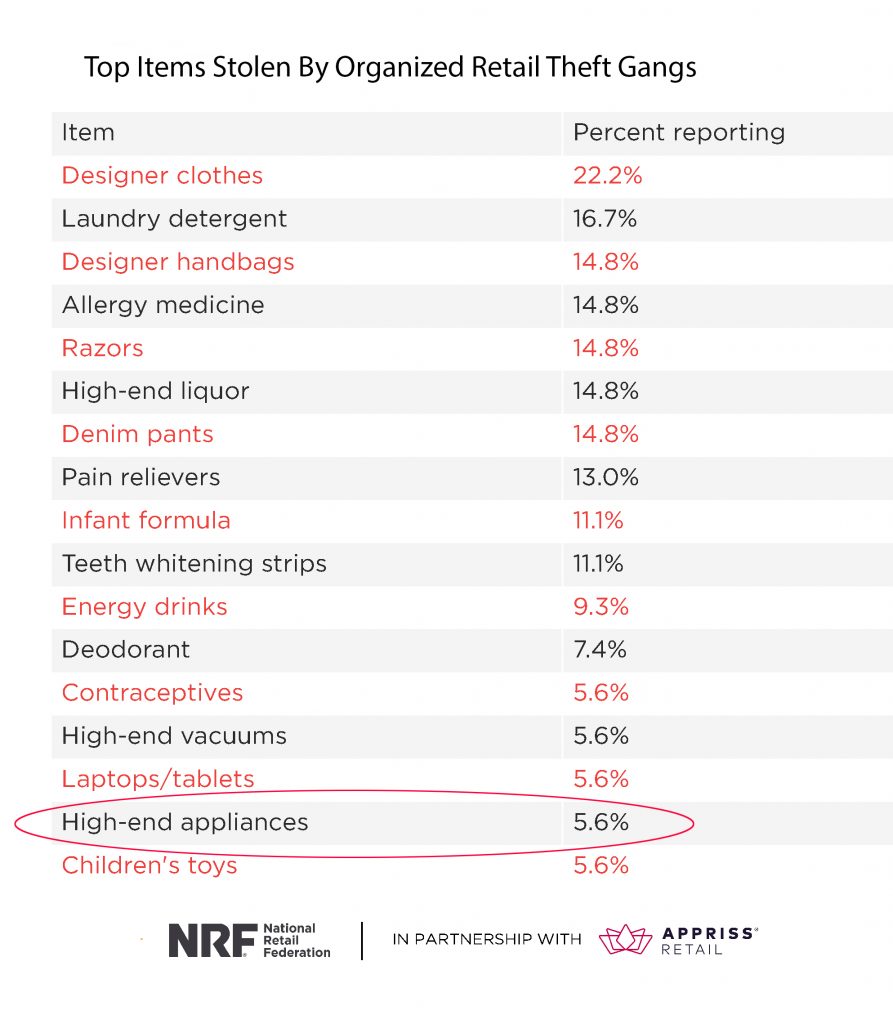 Appliances and furniture are not the primary targets of organized criminals due to their size and bulk. However, there are still vulnerabilities that home goods retailers need to be made aware of, particularly those with transactional websites.
AVB board member Jeff Zeglin, of Zeglin's Appliance in Moline, Ill., offered suggestions for thwarting organized criminals who target independent appliance and electronics dealers. The first rule, he told YSN, is to be skeptical of large online purchases. "Fraudulent online credit card purchases are a scam that I think most in our industry run across regularly. I receive many suspicious quote requests from our website, but when the quote is requesting multiple large-screen televisions, I get suspicious."
Related: How to Know When You're Being Scammed
Zeglin also cautions BrandSource members that "The requests are usually grammatically challenged, with a thinly veiled attempt to sound professional. It is usually obvious that these are scams, but an easy test is to price the products at twice the normal price and see if they still order them. They usually do, and use a stolen card to pay for them and request the goods be shipped to a questionable address."
Zeglin reached out to his State Attorney General to report these attempted crimes and even offered to participate in a sting operation. "They claim they were aware of this scam but had no interest in pursuing it," he said. "It was their contention that it was nearly impossible to catch the real perpetrators, as they use unwitting pawns to retrieve the shipments."
Zeglin urges dealers to be vigilant in vetting online purchase orders from unknown customers.
Mark Pardini, principal of Pardini Appliance in Ukiah, Calif., is equally adamant that members keep their guard up. Reminded of past attempts to defraud businesses over the years, he warns dealers to be on the lookout for these additional scams:
• Bad checks
• Will calls with U-Haul trucks
• Phone sales on long-distance phone numbers
• Requests for sales by fax
• Freight or moving company pickups for customers
• Theft from loading docks
• Delivery to an empty house
"A little caution can save you thousands of dollars," Pardini said.
BrandSource, a unit of YSN publisher AVB Inc., is a nationwide buying group for independent appliance, mattress, furniture and CE dealers.