But exclusive launches were limited to April Fool's Day
By Andy Kriege, YSN
Don Frei, co-owner of Howard Hughes Appliance, Television, and Sleep Shop in Moscow, Idaho, announced today his store would be debuting the world's first pedal-powered appliances.
Yes, you read that right — in an effort to curb obesity, the retailer is touting a full line of home appliances that run exclusively on foot power, including air conditioners, dishwashers and laundry pairs.
As Frei notes in this radio commercial "Not only will you save money on your utility bills each month, but you will also burn thousands of calories each day … and as an added bonus, you will be sure to get a good night's sleep!"
On the same day, Mark Pardini of Pardini Appliance in Ukiah, Calif., was heralding several new product introductions of his own, including a Walk-In Smoker, a Walk-In Clothes Washer, and a Drive-Through Freezer, manufactured by "Cold King" no less, to cool off one's car.
Both BrandSource members pulled the collective wool over the eyes of their customers and friends in April Fool's radio segments featuring hilarious appliance sendups.
Pardini's prank was part of his regularly scheduled Friday morning broadcasts on local station 94.5 K-Wine FM. But this morning's drivetime fun was years in the making, as the last time April 1 fell on a Friday was in 2016.
For Frei, his April Fool's radio campaign is an annual event that has his community in stitches every year. Frei has been collaborating with local radio rep Rod Schwartz on the hilarious advertising spoofs that have run each April 1 since 2010.
According to Schwartz, the spoof spots originally began when the duo collaborated on five different prank ads. "The response from listeners was flabbergasting! Quite a few people stopped by the store to thank Don personally. A few — and I'm not joking — even came in hoping to see the 'pet-drying attachment.' Even the morning man at a rival station made it a point to express his appreciation for the campaign."
Every year the partners have added one or two new spots to the collection. They now have a total of 19 radio ad parodies in the archives and plan to rotate and revive some of the earlier ones on five different stations every year on the first of April.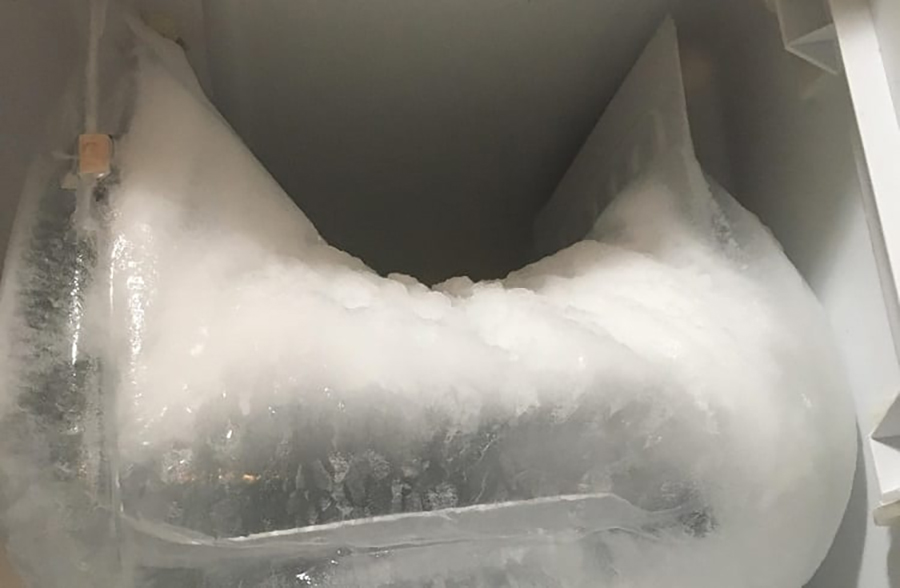 This go 'round they also drafted Dana Gutshall, a longtime service technician, to lend his expertise to a what he called a "fun science project for your kid." The experiment: turning your refrigerator into a glacier.
"It's easy," Gutshall instructs. "Simply leave the freezer door open overnight, causing the compressor to run constantly forming ice that will slowly melt into the main compartment forming a cool miniature glacier."
"The best part," he added, "is that you can then come in when the science fair is over and buy a new one from us."
Frei's daughter (and partner in the business), Melissa Castro, also provided a daughter-dad spot featuring refrigerator jokes. Among the hilarious fridge bits is a classic, with Castro quipping, "My refrigerator stopped working yesterday and I was pretty upset, but today I realized it was just water under the fridge!" They then offered up another zinger when she asked the question, "When the refrigerator and microwave get married, who gives the speech? Why, the toaster of course! Ba-dum-bump!
Another spot features a laundry accessory that allows you to enjoy fresh BBQ right out of your dryer, cooked on a special smoking rack with smoke-flavored dryer sheets available in apple, pecan, cherry and hickory. As noted by service manager Andy Kaus, "That BBQ smell coming out of the exhaust vent will make you the envy of the neighborhood!"
Frei said the reaction to the gags has been overwhelmingly positive. "People come in excited to tell us that they really got a kick out of the ads," he told YSN. "We get messages and email and even the occasional caller who tries to pretend they are interested in a spoof product before they break down in laughter." Frei added that the entire staff collaborates on the spoofs, and offers ideas and suggestions throughout the year.
The company post the bits on its social media sites and has even had the AVB Marketing team add them to its website for a couple of days to help garner even more attention.
"We have a lot of fun with it," Frei concluded. "It has taken on a life of its own over the years."
After hearing all 19 comedy bits, YSN concurs with that sentiment entirely.
Oh, and by the way — Is your refrigerator still running? Well don't just stand there, go catch it!
Additional Spots for you to enjoy:
The Latest in Television Technology HTTV
Turn Your Fridge into a Live Well
Self-Cleaning Refrigerator
Slumberland Mattress
BrandSource, a unit of YSN publisher AVB Inc., is a nationwide buying group for independent appliance, mattress, furniture and CE dealers.