By Andy Kriege
Jennifer Baldwin has worked directly or indirectly with just about every member, vendor and employee associated with BrandSource in the past 15 years.
She is on a first-name basis with more people top to bottom than likely anyone else in the organization and she leaves a lasting impression – no one who has ever met her forgets her infectious smile or engaging attitude.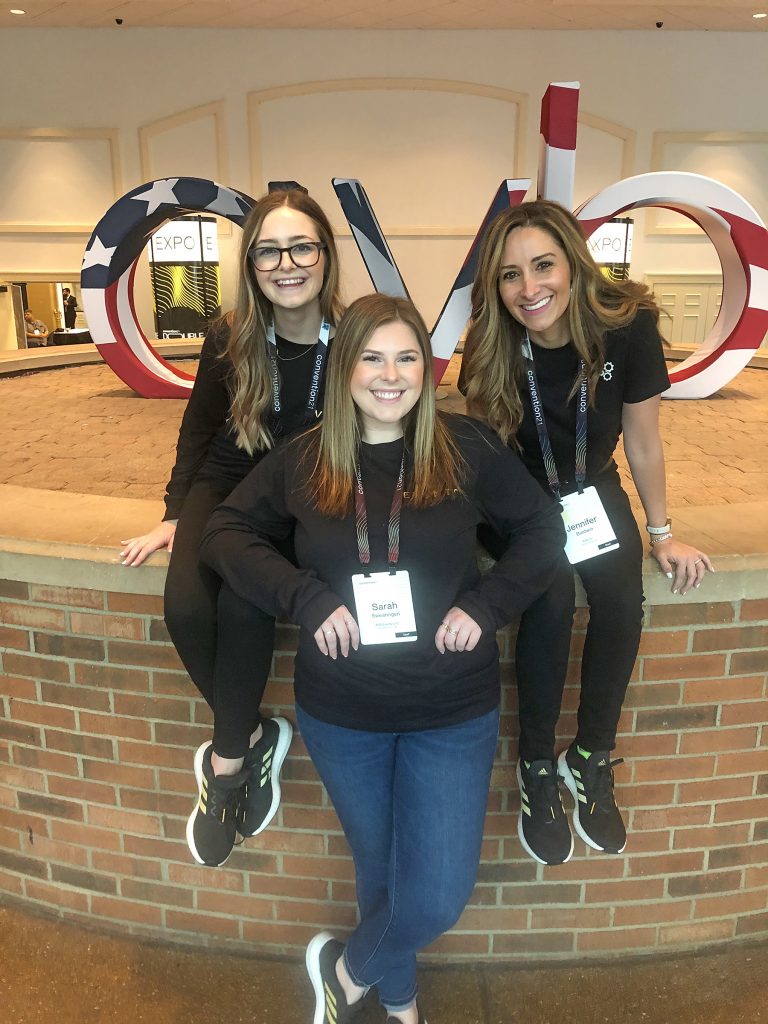 Baldwin came to AVB at the ripe old age of 22 when she responded to ad on Craigslist for an Expert Warehouse (EW) account rep. She was skeptical at first, having no background in electronics, much less sales. She was initially assigned to just a couple of regions and products, but eventually was moved around so much she ended up working with multiple vendors across all the regions.
"I truly believe the chaotic nature of those early years helped me immensely in my career path, as I got to know members as well as the key players in the organization across the entire country," she said.
Back in those days EW was dabbling in appliances, and after fulfilling orders on a Stampede deal for a small refrigerator, Baldwin became the team's go-to person for the category, as she quickly absorbed an entirely new product line. "At the time, no one on the team was interested in appliances so I jumped on it, and it took off from there," she said.
She quickly ascended to national sales manager for major appliances and held that post until EW ceased selling appliances directly in 2014.
Baldwin then pivoted to the new role of director of marketing and communications and, among her other responsibilities, took on two somewhat neglected in-house organizations: Young Professionals (YP) and Women in Business (WiB). Both have grown by leaps and bounds under her direction.
Meanwhile, her experience on the communications side helped expand her relationships with vendors, with whom she began working more directly. At the same time, she began assisting with event planning, as there was no formal AVB events team at the time. "There were people from different departments pitching in and helping to put on events. It was tough time," she said. "We were growing rapidly and [current CMO] John White was trying to juggle it all."
As AVB's events were exploding in size, scale and frequency, it was apparent the group needed a dedicated leader with a wide range of skills and deep connections throughout the organization. Baldwin fit the bill, having attended most region meetings where she met members, vendors and other events planners, and was the ideal candidate to captain the newly formed events team. "I took on a number of things that at the time were not at the top of my list of things that I wanted to do," she told YourSource. "However, in hindsight, everything that I had done over the previous 14 years prepared me for this position with Events. I love what I do."
Baldwin said she enjoys the entire process of planning events, from finding venues and planning the content to booking entertainment. "It's the best feeling when you execute a successful event and see all your hard work on display," she said.
And while she enjoys planning and executing each of the 90-plus events that her team produces each year, the two big shows remain her favorites. "We're all running on pure adrenaline all week" before Summits and Conventions, "and to see so many of the things you worked on for the past six months come to life is very gratifying," she said.
Baldwin is quick to give credit to her teammates who, she stressed, all work incredibly hard behind the scenes to make everything appear to run so seamlessly. "I love them all," she said, "and could never do this job without them."
Somehow Baldwin manages to balance her busy career with her family life. She and husband Justin have two young children: Carter, 4 and Danika, 1, and she gets a big assist from her mother Rosemary, who recently moved in to help with the kids.
"My mother is truly the nicest person I ever met and is always in a good mood," Baldwin said. "She has been a godsend to our family. Without her help, juggling all this would be incredibly difficult."
Baldwin just finished planning her favorite event of all — a massive Thanksgiving gathering at her home. "We have over 30 people every year," she said. "When it's been too big to host inside, we move outside with outdoor heaters."
"Nowadays we have at least two or three turkeys and two hams. My absolute favorite part of this day is just after we finish dessert, when everyone helps set up and decorate the tree. By the time everyone leaves, I can sit down and it's Christmas in my house."
Safe to say, when it comes to executing a stellar event, Jennifer Baldwin is the right choice for all occasions.