By Joe Higgins, Quest 4 Quality
Key Takeaways:
Hiring hit a road bump in April, with jobs hitting 266,000 added for the month.
Unemployment increased from 6.0 percent to 6.1 percent, with expectations at 5.8 percent.
The Institute for Supply Management (ISM) report for manufacturing ending at 60.7 on the index, which is a predictor for growth in the U.S. throughout 2021.
Finally, some good news on the coronavirus front as cases are falling.
April's jobs report, out last week, was a huge disappointment, especially if you use economists' expectations for your baseline.
We had high hopes of adding back nearly 1 million jobs last month, but the actual number came in at a rousing 266,000. Economists, Wall Street, banks and hedge funds all expected the April jobs report to add 938,000 jobs overall. We also were looking for the unemployment rate to move from 6.0 percent in March to 5.8 percent in April; instead, the rate rose to 6.1 percent.
It was quite a shock and a most unexpected outcome. However, in the past few years, prior to the pandemic, 266,000 would have been held up as an excellent result.
We should not forget that is was just a year ago in April 2020 that America witnessed the worst job losses in our history, when over 20.5 million workers were furloughed or laid off. It was a period of fear and longing as our friends and neighbors were out of work with little hope of returning soon. Mortgages went unpaid, food was hard to come by and expectations for the future were dashed for many in this country.
The most unexpected result of last week's report was, after a miss of more than 600,000 jobs, the Dow and the S&P 500 each had a record-breaking day and the NASDAQ rebounded quite nicely from what looked like a precipitous drop.
Another result is that the Fed will not cut the purchase of treasuries or mortgage-backed securities and will not limit bank loans until July. It also makes it makes it unlikely that it will wait for three years to raise interest rates, as Powell suggested just two weeks ago.
The private sector added 218,000 jobs, the government added 48,000, and this is not what economists were hoping for in April. Unfortunately, there are still 8.2 million Americans without jobs, and the necessary question is why? You would think in a world where the government has handed out trillions of dollars of stimulus in the past five years that at least this part of our economy would be booming.
How convincing is it that this is just another pandemic anomaly? Is it true that Americans don't want to go back to work? How is it that when companies complain about how hard it is to find employees, even in an environment with millions out of work? Home builders have made this point recently about the shortage of homes, and restaurateurs have complained about workers moving to other industries, so it could be more than just an economic slowdown. It is possible that COVID-19 has caused a generational shift in how we think about careers, and that people are fleeing to industries that offer greater stability.
See: Dealers Despair Over Workers on the Dole
I know that Ford, GM and Chrysler laid off thousands due to the worldwide shortage of chips. Dozens of cargo ships in California are anchored off the port of Long Beach because there are not enough trucks or drivers to deliver the goods across the West Coast. Supply chains are severely broken, and it may take years to get back to normal.
ISM's Manufacturing Report
April's ISM manufacturing report had it eleventh straight month of expansion. The index landed on a reading of 60.7, which is actually down from last month's score of 64.7. However, 60.7 tells us that there is growth in the U.S. economy throughout 2021.
The report made the case that manufacturers and their supply chains are having trouble meeting the growth in demand across multiple industries, and not just for appliances or furniture; this is a global problem. The world is experiencing long lead times, worker shortages, limited parts availability, a lack of transportation and rising material costs, which will limit the expansion of manufacturing in America.
COVID-19
I have some great news to report on the virus in America. First of all, it is no longer my No. 1 economic indicator. As of May 9, 2021, cases in America are down 29 percent, hospitalizations are down 14 percent and deaths are down 6 percent.
As of today, 33 percent of Americans are fully vaccinated and 45 percent have had at least one dose.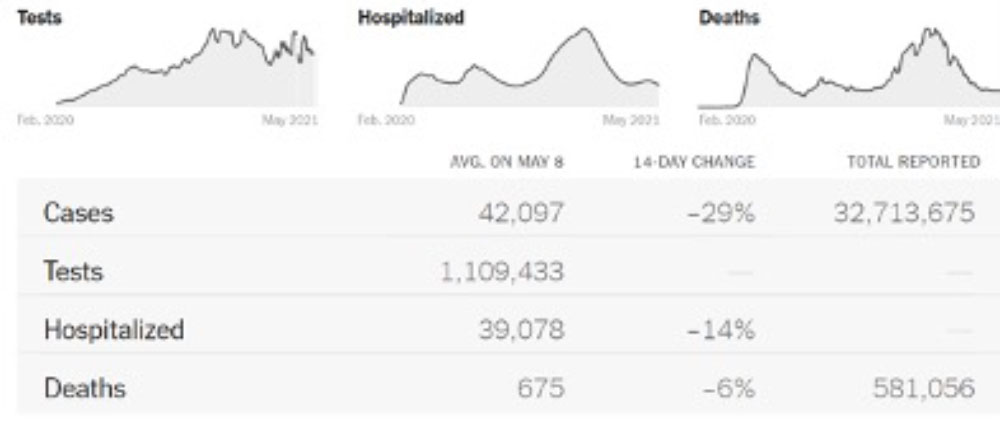 The major outbreaks in the Midwest, Michigan, Minnesota and Illinois are declining nicely and other states like California have shown a complete reversal.
Experts are now predicting that we could be out of the woods this summer, and while it doesn't mean we are free of the virus, it does seem like we can return to some sense of normalcy.
Joe Higgins is a 42-year veteran of GE and Whirlpool Corp. who brings his experience to bear as a business consultant, public speaker, AVB keynoter and YourSource News contributor. Visit his website, Quest 4 Quality with Joe, at www.q4qwithjoe.com.