The sales floor at Yale's Hanover, Mass., store.
By Steve Sheinkopf, Yale Appliance
The following blog excerpt is by BrandSource member Steve Sheinkopf, CEO of Yale Appliance, in which he explains the why's and what's next's of the appliance shortage. You can read the complete blog here.
This is a story of everything that can go wrong going wrong.
The current inventory delays are the worst I have seen in my 36 years at Yale, far worse than the delays during the recessions of 1991, 2001 and 2007.
A Bloomberg News correspondent followed a shopper in El Paso trying to find a French door refrigerator. She could not find one, in any store, under any brand. She ended up with a side-by-side model returned by another customer.
That was four months ago. It's worse now.
For an inside perspective of how appliances are manufactured and why that usually reliable supply chain has broken, I spoke to three qualified people for their opinions on their companies and how they are handling the current crisis. They are:
Barry Reef, Bosch Regional Sales Manager: Barry handles all sales for the Northeast, one of the largest territories for the Bosch, Thermador and Gaggenau brands.
Jan Heck, CEO of Miele U.S.: Jan is in charge of Miele appliances and floor care in the U.S.
Travis Tubbs, National Sales Director, JennAir: Travis is in charge of JennAir sales and operations in the U.S. and offered significant insight into parent company Whirlpool, the world's largest appliance manufacturer.
Every manufacturer and retailer has issues — all of them, including us. But Whirlpool Corp., Bosch and Miele have weathered the crisis better than most. Then again, they are well managed and have fared better than their rivals.
And appliances are not the only affected industry. You will have similar problems with many home-related products. A builder friend of mine can't find white oak for fences. Decking is another well-documented problem as well. Other industries are starting to have similar problems: Car manufacturers have cut production due to a worldwide shortage of computer chips and microprocessors.
How Did We Get Here?
The pandemic showed the fragility of the world's supply chains. But for appliances, most of these problems had their origins years ago.
Back when I started at Yale in 1986, you bought your Maytag washer designed, built and engineered by Maytag. However, with globalization and more specialty manufacturers, products are built, designed and manufactured in different places with parts from multiple countries.
Appliances, until 2018, didn't increase in price due to this more efficient manufacturing. After all, a factory just making hinges will make a better hinge cheaper if that's their specialty. It's more efficient, but if one major supplier has a problem making that hinge, then the whole process stops.
As one representative once told me, "If it takes 84 parts to build a dishwasher, and you only have 81, you can't ship that dishwasher."
Also, many companies went to "just-in-time" manufacturing. Just-in-time manufacturing was made famous by Toyota and saves tons of money by not having work in process or warehousing costs. However, it also means there is no excess inventory in case demand spikes. You have what you forecast. That's all good until your forecasts are wrong due to an unseen external event. Like an unforeseeable pandemic, for example.
For the appliance industry it's two problems: Demand was non-existent from late February 2020 to May. Then COVID-19 hit factories, warehouses and distribution points. Now there is exploding demand for appliances, for several different reasons.
The pandemic is a year old but has impacted different areas, hitting important manufacturing, warehouses and parts providers at inconsistent times. And now the industry has to deal with another unique problem: port and container availability.
Bosch's Reef first noticed problems last spring. "Customers started canceling orders in early April and that accelerated through April into May," he said. And both Jan at Miele and JennAir's Travis started to notice problems as early as late February.
Let me show you why. The following are graphs of our store traffic from February through April 2020. Our traffic was down 90 percent during that time.
At the same time, we were insulated a bit through other channels. These chats indicate demand was still there, but only for those who had a strong virtual presence. Most brick-and-mortar businesses do not.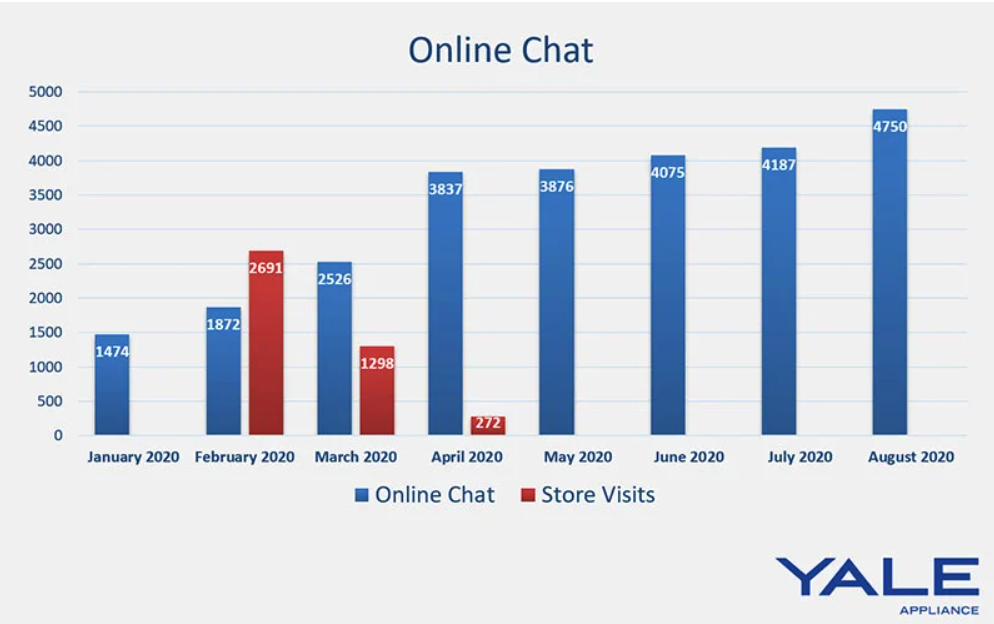 Demand was there for durables like freezers. We sold more freezers in two days in March of 2020 than we did in the last two years. However, for whole kitchens and many upscale appliances, demand wasn't there. So, retailers curtailed their orders. A factory would ramp down production to match decreasing demand.
Then, COVID-19 hit appliance factories. Bosch was closed for most of May, Barry said, and also experienced contamination in warehouses and its central distribution center.
For JennAir, "COVID-19 started impacting production in March," Travis said. "We had COVID-19 in our plants. COVID-19 just ripples through a factory or distribution center."
Both Travis and Barry at Bosch continue to have issues with part suppliers globally. Travis said suppliers are having issues meeting production requirements for JennAir products. Miele, however, has a more integrated supply chain. Most parts are made in Germany.
But they all agreed importing parts and products is still a problem. And, according to all three, the Port of Los Angeles has had COVID-19 issues and is weeks behind in processing shipments. It seems a worldwide container shortage will be the next challenge.
Since May, demand has exploded for any type of home goods. Many people have stopped their discretionary spending on vacations and other leisure activities like dining. How many times did you go to a restaurant in 2020? How about a hotel? How about a vacation? Did your kids go to camp last year? Let's face it. We didn't go anywhere or do anything.
Most of that money people placed in their home, and not just for appliances either. A friend of mine sells pools and his leads were up 700 percent over last year vs. 2019. He had people willing to pay an extra $10,000 just to be placed ahead of the line.
How Are You Handling the Backlog?
"We have orders for $10 million daily," said Barry at Bosch. "We can only produce $5 million daily." Mind you, these figures are regional, not national.
At Miele U.S., "We are doing OK, although some of our newer units can't be made fast enough," CEO Heck said.
For JennAir, "Depends on the segment," said Travis. "We have been producing steadily, but it depends on the product, plant line and SKU."
When Do You See a Return to Normal?
Barry said he expects deliveries to return to 2019 levels for Bosch at the end of the year. They expect to be mostly caught up this year for most SKUs.
Similar to Barry, Travis expects Whirlpool to reach close to normal by the end of 2021 in some areas. However, he anticipates some other areas will still have minor issues in 2022 and beyond.
Jan presumes to see Miele's levels return in June and July of this year, depending on its sales demand.
However, they are referring to manufacturing, not port or container problems. You could probably add a month or two lead time.
Advice for Consumers (and Dealers)
I said in an earlier post you should be feature loyal, not brand loyal. This advice could be followed for any product in scarce supply.
If you want a dishwasher to be quiet, for example, you have some choice. A dealer in your area will have a quiet dishwasher. If you want a quiet dishwasher or are loyal to a particular brand, then you will probably have a problem.
For a whole kitchen of appliances, it becomes even more difficult. You have to list priorities and find an available brand best matching those needs. Jan said it best: "Customers may have to sacrifice quality, price, features and brand for the next six months to have appliances delivered."
You will have to shop more now than ever. Once you find your appliances, have them delivered ASAP. Early delivery is usually bad advice due to damage and possible theft. However, having your retailer holding your scarce appliances is not a good idea either. Just make sure you uncrate and check for damages before you sign off on anything.
One last piece of advice: If you have an existing order, communication between factory to retailer has been difficult with increasing lead times. Don't let frustration get the best of you. Do not cancel an order unless you can find it or an equivalent definitively at another store. And by definitively, I mean on a truck to your house. You don't want to be at the top of the list at one store only to cancel and be at the bottom of another store.
If you are planning a new renovation, then allow as much lead time as you possibly can … or wait until 2022.
Steve Sheinkopf is CEO and third-generation principal of Boston's Yale Appliance, a 97-year-old premier destination for premium appliances, plumbing fixtures, lighting and service.