Miskelly's historic carousel keeps on giving.
By Andy Kriege, YSN
"Tip of the Hat" is a feature that recognizes and congratulates those who go above and beyond to make the world a better place. If you have a suggestion for a person or a company that is doing something positive in our industry, please let us know at Communications@AVB.net.
Mississippi's Miskelly Furniture recently donated its beloved carousel to the state's Agriculture and Forestry Museum.
The 30-seat antique merry-go-round was purchased from an amusement park in Argentina 16 years ago. Since then, it became a fixture of the BrandSource member's Pearl, Miss., showroom, where it filled a glass turret that projected out from the storefront.
Over the years, customers would pay a dollar each to ride the carousel, with all proceeds going to a different annual charity. "We chose organizations that were dedicated to helping the children of Mississippi," principal Oscar Miskelly explained. "The carousel has generated more than $200,000 in donations. Recipients included The Little Lighthouse, Make-A-Wish Foundation, Big Brothers/Big Sisters and Mississippi Children's Home Services."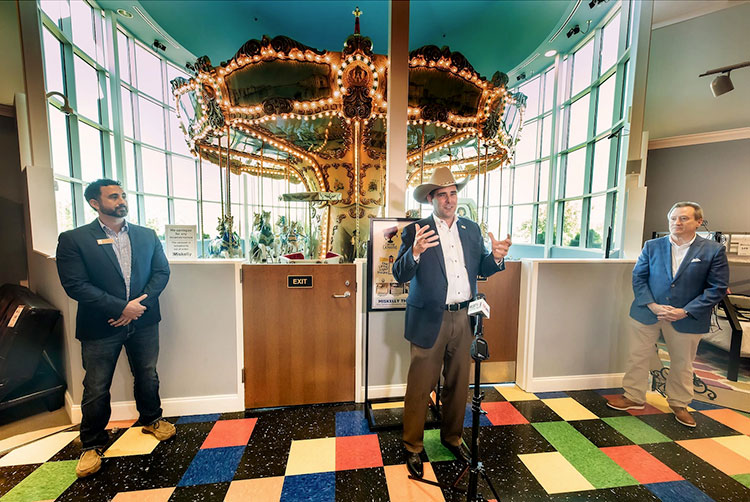 The new owners were thrilled to receive the gift. "We are very excited to accept this unique donation on behalf of the Mississippi Agriculture and Forestry Museum," noted Commissioner of Agriculture and Commerce Andy Gipson. "This attraction will make a great addition to the multiple exhibits we currently offer across the grounds of the museum complex. I want to thank Oscar Miskelly and the entire Miskelly Furniture family for their generosity, and I look forward to seeing the joy their donation brings to all the families that visit the museum."
Oscar acknowledged that it was difficult to part with the carousel, which had been a feature of the store since 2004. But the move will allow many more youngsters to enjoy the ride, he said, as the museum hosts thousands of children.
"We want to see more Mississippi children have the opportunity to ride on a real antique carousel," Oscar said. "We know the museum will care for it as we have, so it will circle around for many more years."
The ride was disassembled at the furniture store late last year and taken to the museum in sections. A museum spokesperson told YSN that a location for the treasured attraction is presently being prepped, and that it is expected to be reassembled and rotating again later this year — when there will be no shortage of kids lined up to ride the majestic machine once again.
For spreading joy, charity and good will, YSN gives a Tip of the Hat to Oscar Miskelly and Miskelly Furniture.
BrandSource, a unit of YSN publisher AVB Inc., is a nationwide buying group for independent appliance, home furnishings and CE dealers.