A.C. Carlson owners Dan and Dave Carlson
Tip of the Hat By Andy Kriege, YSN
"Tip of the Hat" is a feature that recognizes and congratulates those who go above and beyond to make the world a better place. If you have a suggestion for a person or a company that is doing something positive in our industry, please let us know at Communications@AVB.net.
During a recent BrandSource town hall, AVB CEO Jim Ristow encouraged members to do two things.
One was to do something special for their employees during the holiday season; the other was to consider donating to AVB's Together We Rise charity campaign as well. Dave Carlson, owner of A.C. Carlson Appliances in greater Minneapolis, did both.
On a Friday afternoon before Christmas, Carlson gathered his employees. Phones were silenced, company-branded bean bag boards were brought out, and a party commenced, with a cornhole tournament and Buffalo Wild Wings on the menu.
Before the competition began, Carlson primed his staff by sharing the Together We Rise presentation that Ristow showed during the member town hall. He then informed his staffers that he would donate $20 to the children's charity for every ringer they scored in the tourney.
As an added incentive, Carlson offered his employees $100 to participate. Needless to say, everyone signed up for the competition. In addition, every ringer earned the contestant a scratch-off lottery ticket, along with an entry into a final grand prize cash drawing.
"I had a full-time job just keeping track of all the ringers," recalled Carlson. The staff proved to be straight shooters indeed, as they raised $1,000 for kids in foster care.
"It was a wonderful event that brought us all together," Carlson told YSN. "It was extra special because we were able to hold it at a time when we can't go out anywhere, so we stayed in and played in and had a fantastic time."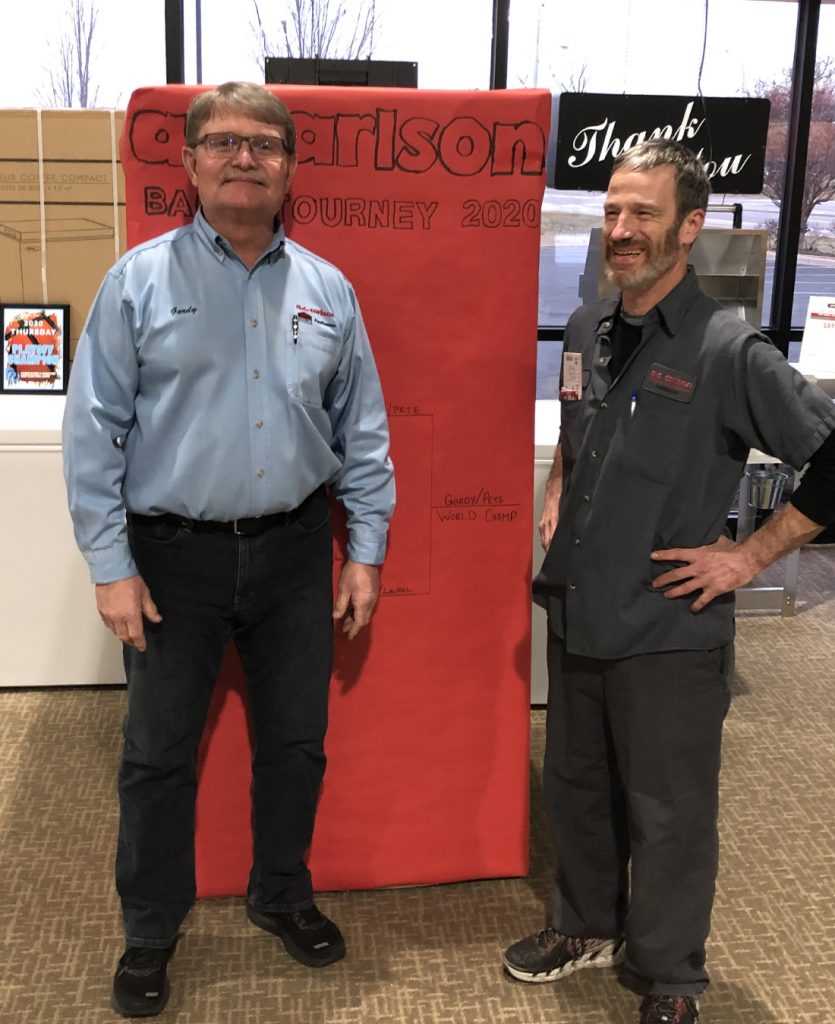 "They have been working so dog-gone hard since the pandemic hit, we really needed to pause and take a breather," Carlson said. "Everyone was a winner, including the staff, the charity and myself, in seeing what a worthwhile event it turned out to be."
He said the fundraiser also gave his staff some insight into the inner workings of BrandSource, and how much the group is doing to make a difference by keeping A.C. Carlson viable and also serving the community.
So hat's off to Dave and A.C. Carlson for holding a contest where everybody wins!
BrandSource, a unit of YSN publisher AVB Inc., is a nationwide buying group for independent appliance, home furnishings and CE dealers.