By Andy Kriege, YSN
With the economy in a holding pattern, now is the perfect time, if you have available staff, to tackle company tasks that may have been overlooked in the past.
It's a win-win: you keep your business staffed, and your employees keep their jobs and earn a paycheck to support their households. Plus, keeping your employees on during the coronavirus could qualify your small business for a potentially forgivable loan once the SBA's Paycheck Protection Plan (PPP) is refunded.
What's more, your store will look fabulous when customers start streaming back in.
There are lots of great ways that you can keep your employees occupied. Here are a few ideas to keep them productive in the weeks ahead.
Part One: Let's start with dirty work . . .
Deep Cleaning
When's the last time you gave your store a good deep cleaning? It's easy to get caught up in other tasks when things are busy, so there's no better time than right now to tackle your spring spruce up (hey it is spring, right?). Use the extra time and resources to clean under and around furniture and equipment; wipe down baseboards; dust blinds, light fixtures and window treatments; and deep clean the carpets.
Now is also a good time to reevaluate your cleaning and sanitation policies. Make it a new practice to properly clean and sanitize the entire store on a regular basis.
Get a Dumpster
Decluttering and disposing of unwanted or seldom used junk might just be the best return on investment you can get in terms of enhancing your retail environment. Getting the place decluttered goes a long way toward creating a space that people will gravitate to. Follow this simple rule when deciding if you really want to keep something: When in doubt . . . chuck it out!
Put on Your Paint Clothes
Jerry Blanchard of Miller's Furniture in Mill Hall, Pa., decided to do just that. When Miller's closed on March 16, Jerry moved all the furniture out of the showroom and began painting and redecorating. "It's not too often you get the chance to do this type of work without customers getting in the way," he said. "We replaced some outdated colors with modern, attractive ones and the showroom really pops now."
See: AVB's Makeover Manual, Store Edition
Get Organized
While your team is getting down and dirty with deep cleaning, take it a step further by getting the place more organized. Task your employees with sorting through file cabinets, purging old or unnecessary items, and taking down outdated signs and notices. Also sort your inventory, including parts and supplies in your service area.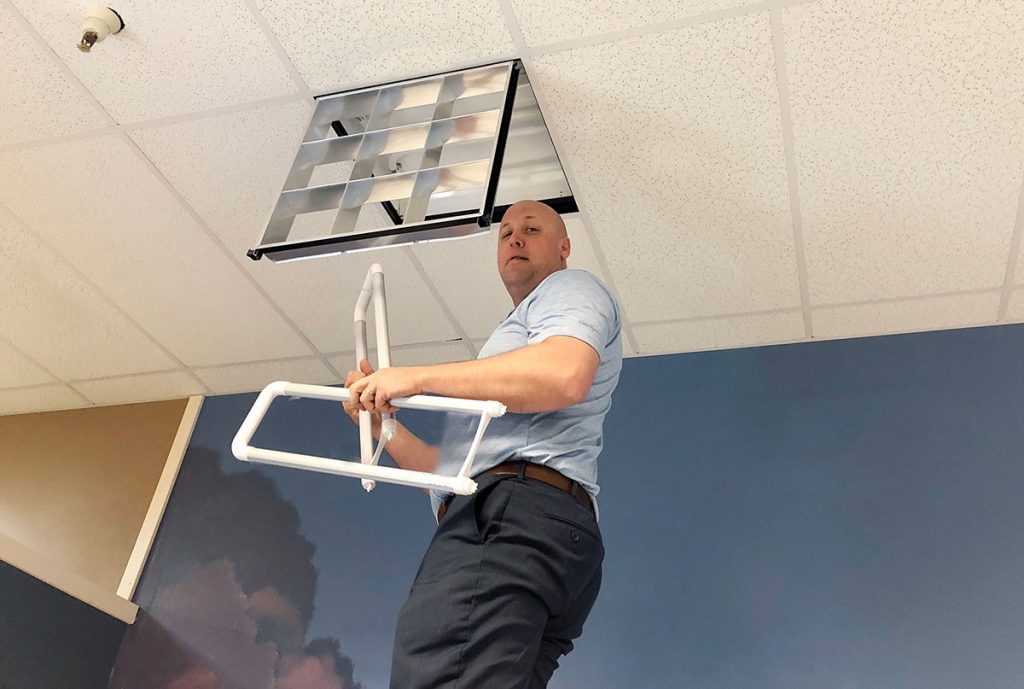 How many store owners does it take to change a light bulb? Collin Cook of Blacker's demonstrates he is worthy taking on the job solo . . . What we don't know is how many people are holding the ladder!
Collin Cook of Blacker's Appliance & Furnishings in Twin Falls, Idaho, took advantage of the downtime by taking on several tasks and putting the team to work. Blacker's is open but operating at a very limited capacity and traffic is slow at best. The team removed some old carpet in the service area and replaced it with leftover pieces of luxury vinyl (they sell flooring too). They then moved on to painting, cleaning and inventory.
"Now that we have the time, we are doing everything imaginable that we had on the backburner," Cook said. "Sometimes we get so busy the little things get away from us. By the time things get back to normal, this is going to look like a brand-new store." added Cook.
Blacker's has managed to keep all of its 20-plus people on the payroll and keep them all busy. "It is really important to stay busy; if everyone is just sitting around thinking about the situation, they start to get down," Cook said. "Keeping busy really helps with morale by giving us a sense of accomplishment on an otherwise slow day."
Cook pointed to longtime employee Tami Wray, who took it upon herself to do some touchup painting around the showroom. "Her job is to place and track orders. As you can imagine she is not terribly busy with that right now, yet she always finds things to do to make this a better place without anyone even asking. All of our employees are pitching in," he said proudly.
Tami Wray of Blacker's is finding ways to fill her days.
Sue Schinke of Lyle's TV and Appliance in Elkhorn, Wis., has been making good use of both her team and their time as they continue to shine up their recently remodeled store. "We are turning what would be downtime into constructive time," she said. "We've updated our office, cleaned out old file cabinets and are keeping our delivery guys going with painting. Best of all, we got rid of the last of the nasty old carpet!" she exclaimed.
Sue Schinke and her crew of masked marauders have taken more projects in the past month than they can count!
Your Employees are Central to Your Success
Employees are vital to small businesses. While it's understandable to adjust your resources during the COVID-19 pandemic, think about your business over the long term. Finding, hiring and training new employees can be even more of a burden on your business down the road. If you can, tackle tasks that have fallen by the wayside, like detailing your store, rather than laying off your workers. When labor abounds, all of these projects become much more doable with very limited expense.
Remember, you aren't limited to these suggestions … or to your store. Who knows, you may go home and clean out the garage and basement when you are done!
Stay tuned for Part Two of Time is On Your Side, covering important backroom and corner office chores.