By Todd Hall, Duerden's Appliance
Let's face it, it's been a tough six weeks.
We've all had to make important, consequential and stressful decisions. We've had evolving information, rapid change and no perfect alternatives.
Yet some beautiful things happened when we gave a little — we got back a lot. Our store was willing to share a few ideas and in return received a huge response from all over the country.
For example, we quickly realized how different six feet of separation feels compared to what most people are used to in stores. After a few days of stepping backward only to have our clients walk forward to close the gap, we tried taping off six feet as a reminder to everyone.
We shared this solution with YourSourceNews as well and LinkedIn and received even more help in return. So paying it forward, here are some of the best practices and acts of kindness that were bestowed upon us by generous fellow dealers, loyal customers and dedicated employees.
Clear the Air: Premier Remodeling is one of our most faithful customers and has occasionally had to contend with black mold from water damage. They have a five-stage HEPA filter that circulates air at 2,000 CFM [cubic feet per minute] which they gave us to use as long as needed. It's loud and ugly, but it hopefully rids the air of any viruses each night.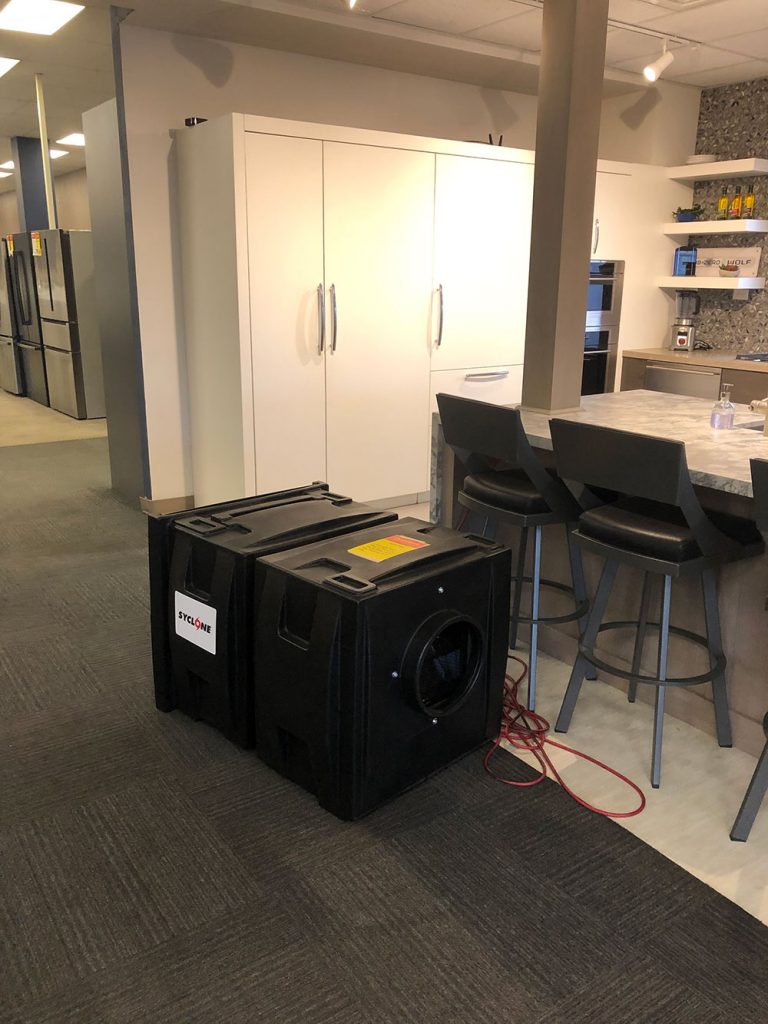 An Ounce of Prevention: We were on our last bottle of sanitizer and couldn't get our hands on any more. Boyle Appliance of Ogden, Utah, happens to be one of our most formidable competitors but also some of our best friends. They located a distillery that had converted some hard liquor to hand sanitizer and brought us an extra gallon of the ultra-concentrate.
Breath a Little Easier: Masks have also been hard to find or buy. Brandon Peck, our warehouse supervisor, is a cosplay enthusiast who builds his costumes on a 3D printer. Using an open source file on the MakerBot site Thingiverse.com, he was able to produce respirators for our entire logistics team. This helps us protect our customers and also keeps us a bit safer.
Squeaky Clean: Debbie Shaeffer is the CEO of Mrs. G Appliances in Princeton, N.J. She placed a sanitizer station by the entrance to her showroom and we liked the idea. Now all our customers are greeted with plenty of hand wipes and sanitizer to make their visit as safe as it can be.
Roll Tape! After shutting his showroom as a safety precaution, BrandSource member Joe Legato of Bill & Rod's Appliances came up with a plan to hold his bi-annual VIP sale entirely online … and then shared his video and playbook with everyone!
Conclusion: Members, customers and even competitors have shown the very best of their true selves in this time of crisis. When our group's CEO Jim Ristow reminds us that we're stronger together, it's more than a tagline — it's a way of life that our extended dealer family has embraced.
Todd Hall is president of Duerden's Appliance in Bountiful, Utah.