By Andy Kriege
After spending decades in business, it may come naturally to some owners to slow down and take some time to enjoy their success. However, in the hyper competitive world of Tulsa independent retail, this just isn't done. Dave Bauer, owner of Appliance Solutions, is a survivor who does not rest on his laurels even after operating in Oklahoma for over 25 years.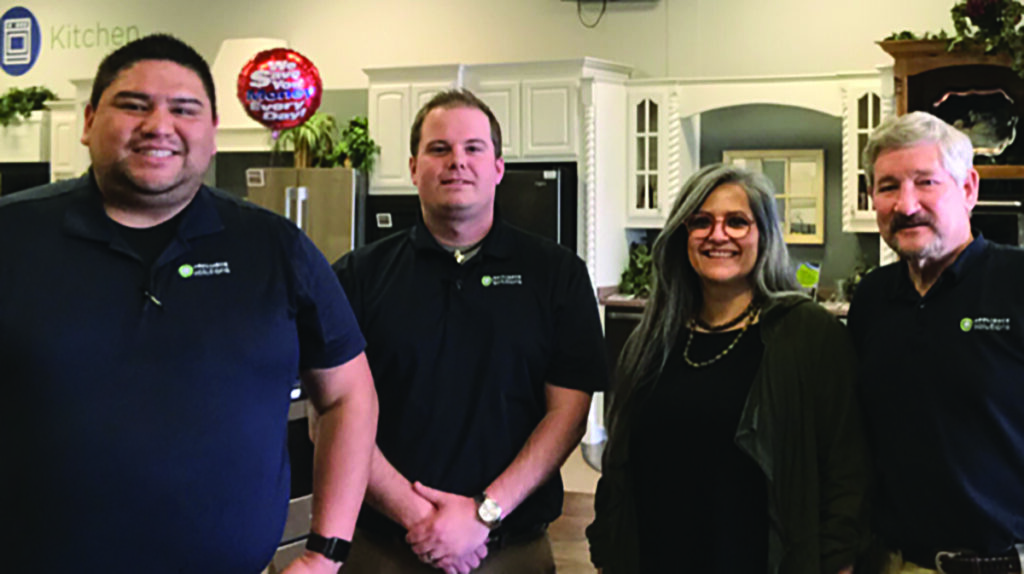 Surrounded by box stores and independents alike, he has waged a perpetual chess match against his competitors while adapting each year to the winds of change transforming the retail environment. With two stores in the Tulsa area, Appliance Solutions has striven to maintain relationships with its customer base while taking advantage of every opportunity to gain new ones.
The store also employs modern digital marketing techniques with assistance from BrandSource to keep pace with changing times. This marriage of new technologies and old-fashioned customer service has ensured Appliance Solutions' success after two decades. It is a tale that can resonate with business owners from all walks of life.
Appliance Solutions began when 23-year-old Dave Bauer caught the eye of a Maytag representative while he was working as a salesman in the appliance department of a Montgomery Ward store in Bartlesville, Oklahoma. The success of the department's sales team prompted the representative to ask Bauer if he was interested in opening his own Maytag Home Appliance Center. Although he initially declined the offer, believing he was too young to open a business, Bauer soon reconsidered after taking stock of his future job prospects. In 1993, Bauer began his "crazy journey" as the proprietor of a Maytag Store and slowly carved out a niche in the city's appliance market.
In the years that followed, Bauer opened up another store in Tulsa and eventually changed the store's moniker to Appliance Solutions. The passage of time has brought great changes to the city of 400,000, especially in the retail business. "We have seen a lot of changes through the years," Bauer said. "I'm on a street where the daily traffic is 70,000 cars that go by our store. When I opened up, there was a pasture with horses across the field. It's funny because it's now as high density a retail avenue as you can find."
Despite the success of Appliance Solutions, the current Tulsa independent appliance market is not for the faint of heart.
The retail landscape is littered with the skeletons of failed businesses that could not survive amid the sheer number of competitors.
"The market in Tulsa is very unique," Bauer said. "We have a lot of independents. I have seen a lot of independents come and go. JCPenney's came with appliances and they're going. There was Ultimate Appliance, which entered the electronics field and they dissolved. Both our Sears stores have exited the market."
Ironically, the big box stores are the least of Bauer's problems. He admits that he is happy to compete with them versus the multitude of other businesses. "The big box stores, we like to compete against them. Those prices are good to compete against. We wish that's all we had was a Lowe's or a Home Depot," he said. "That would be wonderful."
With Tulsa's retail environment so crowded, stores are in a mad scramble to distinguish themselves. In the case of Appliance Solutions, Bauer attributes "relational selling" to his store's survivability. "When we talk to customers, we don't really want to sell you one appliance, we want to make sure we build a relationship and trust, so you feel comfortable referring your friends, your neighbors, or folks from church," he said. "We're a smaller company, we thrive on repeat business and referral business and our customer base has actually become robust because of that."
In order to start that relationship, Bauer admits that Appliance Solutions will go to extremes when it comes to customer service. "We do whatever it takes. We hand deliver coffee mugs with our logo on it after a sale," he said. "We drop them off on our customer's doorsteps. It's things like that. We continue to go the extra mile."
Bauer demonstrates his commitment to gaining potential customers by sharing a story of when he instructed his employees to render assistance to a motorist who had broken down in front of his store. "We look for those kinds of opportunities," he said.
Although he goes to the outer limits for his customers, Bauer also cautions about the pitfalls of an overzealous approach. "Overselling is just as bad as underselling," he said. "You genuinely have to invest in the customer, ask the right questions and ensure that they get the right product. If it's too much or too little, you've failed."
Bauer is effusive in his praise for BrandSource and its contribution to his store's success. Appliance Solutions' marketing efforts, which are 90 percent digital, are augmented by the buying group's futuristic proposals on how to lure customers.
"BrandSource has a genuine zest for the independent retailer," he said. "Some of the things they've done are so forward thinking. We really appreciate them." Bauer cites their aggressive campaign to go after Sears customers, their video product interviews that you can upload to your website, and their digital price tag as evidence of their zeal. "They are putting out programs that are clearly for the independent retailer," he said. "When you know that you have a partner in the virtual minefield of today, that's comforting to know you have someone there alongside you that is a good sounding board, that has your best interests in mind and not their own."
As Appliance Solutions moves closer to its third decade in business, Bauer concedes that consumer expectations have changed dramatically and that independent retailers must adapt to these demands to survive. In order to do this, Bauer stresses the importance of online reviews, a hearty digital presence and the merits of building your e-mail database to keep pace with your competition.
His words of wisdom to his fellow independent are validated by his 20 years of survival in a particularly inhospitable retail environment. Newcomers to this world would be wise to listen.
YSN is published by BrandSource parent company AVB Inc.